Make compliance and management of all your product information requirements as easy as possible with our Smart Products Platform-as-a-Service.
Why a Digital Product Passport (DPP)?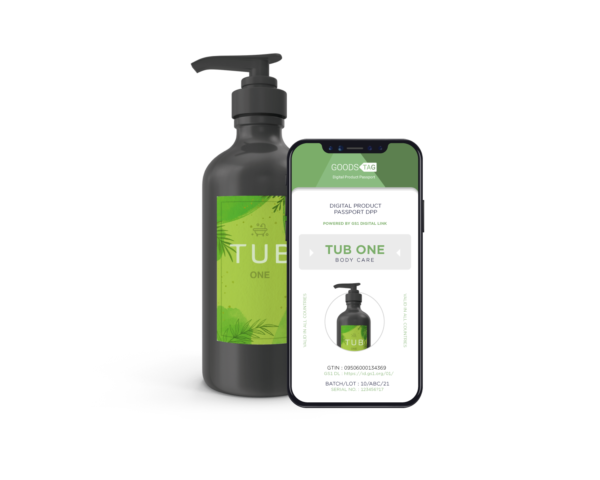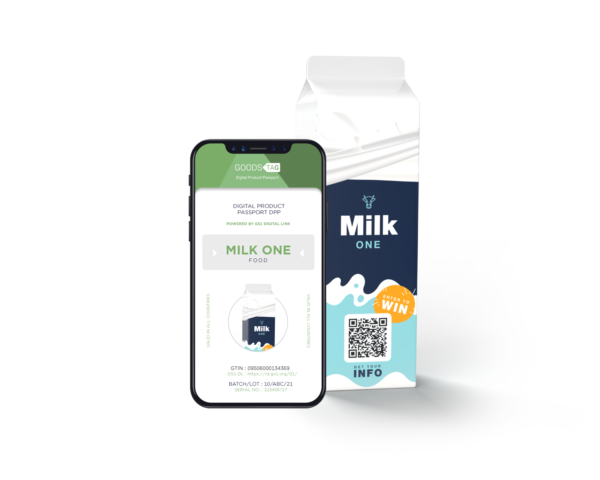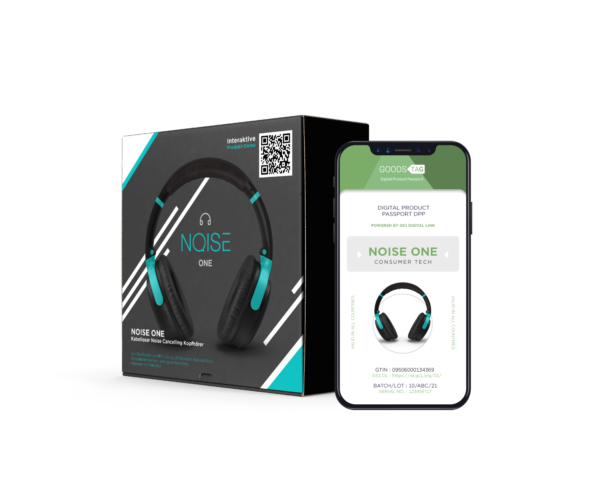 A Digital Product Passport is an essential tool for brands and manufacturers to build trust with customers and partners, comply with regulations, and promote sustainable business practices.
With increasing demand for product transparency, and initiatives such as the European Green Deal promoting sustainability, there is a growing need for granular and easily accessible information to enable consumers to make informed decisions.
By using a Digital Product Passport, you can provide comprehensive information about your product's design, materials, manufacturing process, sustainability impact, and more. This information can be accessed by authorized parties or consumers throughout the product's lifecycle, helping you to establish credibility with customers and partners, meet regulatory requirements, and promote sustainability.
What Can Be Included in a Digital Product Passport?
A Digital Product Passport can contain a wide range of information to support sustainable and transparent product journeys – following few examples.

Ingredients and Usage
Understand the makeup of your product and how it should be used to optimize performance and safety.

Sustainable Product Impact
Track sustainability product metrics (water, energy, CO2) to minimize environmental impact and improve brand reputation.

Regulatory Compliance
Stay on top of changing regulatory requirements and demonstrate compliance to build trust with customers and partners.

Durability and Repairability
Provide clear guidance on how to maintain and repair your product to extend its lifespan and reduce waste.

Recyclability Information
Highlight opportunities to recycle or upcycle components or materials within your product to support circularity and reduce waste.

Product Updates
Keep customers informed about important product updates, such as limited lifetimes or recalls, to enhance safety and build trust.
Benefits for your business?
Regulatory Compliance
Fulfill increasingly complex regulatory requirements by leveraging Digital Product Passports to track and manage product information throughout the supply chain. Be prepared and stay felvible to easy adapt to further complexity.
Improved Supply Chain efficiency
Manufacturers can track their products throughout the entire supply chain, ensuring quality control and compliance with regulations. This can help to minimize the risk of product recalls, improve supply chain efficiency, and reduce costs.
Enable Circularity
Unlock new business models that support sustainability and circularity by leveraging Digital Product Passports to provide transparency and traceability in the product lifecycle, reducing environmental impact and enhancing brand reputation.
Contextualized Product Information
Establish unique B2B and B2C communication channels that provide the right data to the right person at any touchpoint of the product lifecycle. E.g. to fullfill specific regulatory in the adressed target market.
Transparency and Trust
With a Digital Product Passport, consumers can verify the authenticity of the product, see its history and check correct sales channel. That way you building trust with customers and partners.
Enhanced Customer Experience
Digital Product Passports provide access to additional features, such as user manuals, tutorials, and support resources that can enhance the customer experience.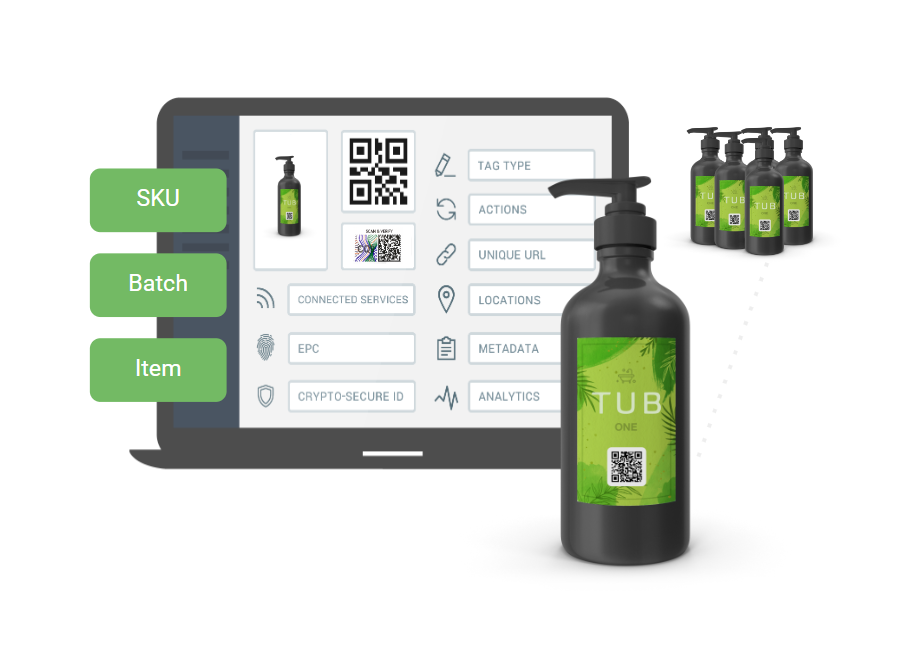 Customize your dynamic product journeys with the data granularity you need
The level of detail in the data attached to the Digital Product Passport (SKU, Batch, Item) will vary depending on the intended use, regulatory requirements, and accessibility. The data will be provided, enhanced, and made available to dynamically fill and update the Digital Product Passport throughout the product journey.
Our platform provides modules that enable easy access and management of SKU, batch, and item-level information for products. This includes the flexibility to use any ID type, ID level or data structure, whether it's your own data structure or conforms to GS1 (Digital Link) standards. You can determine which product attributes are displayed to specific users at particular times.
Start with any ID-Level to make your products smarter
B2B & B2C use cases on SKU, Batch & single Item-Level
SKU
Batch
Item
Pre & Post sales or Location context-specific marketing (personalized content, lottery, discounts
Product consumer information (labels, ingredients / components, allergens / nutrition, instructions...)
Specific professional information (training materials, sales info, technical data...)
Extended information & services at POS
Complementary products or services recommendation
Consumer feedback
Recycling / upcycling information & data
Availability (inventory, endless aisle...)
Call-back
Product or Packaging lifecycle data (provenance, delivery, purchase...)
Authenticity & Theft protection
After sales services (registration / activation, warranty, claim / return, repair...)
Returnable packaging / Refill & reuse
Ready to Unlock the Power of Smart Digital Product Passports?
Digital Product Passports are a game-changer for both manufacturers and consumers, offering unparalleled transparency, trust, and convenience. If you're looking to take your products to the next level, get in touch with us to learn more about our smart products platform and how we can help you unlock the full potential of Digital Product Passports.
Frequently Asked Questions
To start with Digital Product Passports, contact us to access your tenant on our platform infrastructure, receive a short training, and start adding your products with a guided manual workflow or CSV file import. Generate a default digital product passport with a QR code in just a few clicks. Our API can be used at a later time.
GoodsTag's smart products platform offers various ways to feed data into your Digital Product Passport/Product Digital Twin, including API integration with existing data sources, direct input, or batch file upload. It also supports automatic data collection from IoT-enabled devices or RFID tags for real-time updates. The platform is flexible to adapt to your specific data needs and workflows.
The smart products platform has predefined attributes for your Digital Product Passport/Product Digital Twin, but you can also customize attributes to fit your unique data needs. This lets you capture and utilize important information and manage your data in a way that aligns with your business operations. GoodsTag gives you complete control over attribute management for a customized solution.
Absolutely! The smart products platform lets you customize attributes for products and items in the Digital Product Passport/Product Digital Twin, aligning with your specific requirements. You have complete control over the attributes, and the platform is flexible and adaptable to your needs.
Yes, the smart products platform enables real-time management and updates of Product Digital Twin data for both the Digital Product Passport and related product experiences, including integration of data from multiple sources. This ensures that you have up-to-date information available to make informed decisions and stay on top of changes.
DPP solutions can help organizations comply with various regulatory requirements related to sustainability and product traceability. These are among others:

New EU Battery Regulation (Implemented in 2026); 

EU proposed Ecodesign for Sustainable Products Regulation (Draft proposal published March 2022, with first delegated acts adopted in 2024)

EU Strategy for Sustainable and Circular Textiles (Implemented in March 2022)

Construction Products Regulation (Proposed in March 2022)

Corporate Sustainability Reporting Directive (Adoption by Parliament and Council in 2022 and implementation in 2024)

Wine Labeling (EU Regulation 2021/2117 – in force on 1 January 2023)
NO, but the GTIN which is in the barcode can be part of the QR Code (called GS1 Digital Link) which is needed to offer an easy accessible Digital Product Passport for your consumers and/or business partners. For your label or packaging at the moment you need in addition to the barcode a QR Code which redirects to the DPP.
GoodsTags Smart Products Platform does not collect user data, some services does collect and manage data generated during end consumer interactions with smart products. This data is stored in a GDPR compliant database, with no Personal Identifiable Information (PII) stored.