Vers un emballage intelligent grâce au lien numérique GS1 / Smart Packaging with GS1 Digital Link
Webcast in collaboration with GS1 France, STI Group and GoodsTag about the Digital Link Standard and how the GoodsTags Platform enables its capabilities.
Tuesday, 14.11.2023 at 11.00 am CET | FRENCH
Are you taking advantage of digital technology to improve customer product experiences and make your packaging more sustainable?
Introducing GS1 Digital Link standard + GoodsTag Smart Products Platform – a cutting-edge solution coupled with a worldwide standard that turns physical products into unique communication channels throughout their entire lifecycle.
By linking key information such as origin, expiration date, price, recycling instructions, and personalized content and services to a product's unique identity (GTIN, SGTIN, GRAI…) via a 2D/QR code on the packaging, users have seamless access to relevant product information.
Furthermore, this information can be tailored to specific contexts and rules to ensure the right information is delivered to the right user at the right time while also providing your company with a comprehensive Digital Product Passport to comply with any product-related regulations.
Compatible with modern smartphones and scanners and easily updatable, this solution provides ultimate value, flexibility, and efficiency.
WHAT will you take away from the webinar? WHY you should join?
Learn how to engage consumers and drive brand loyalty
Give consumers faster access to relevant information; turn packaging into a powerful new communication channel for your brand.
How to streamline processes and drive innovation
Link B2B processes and data from manufacturing through to logistics and retail; use dynamic digital solutions to make life easier for everyone you do business with.
See how you can save space for what matters
Improve branding by reducing the data and labeling required on products and packaging; give access to the majority of details through a single code.
Learn why to create a digital profile for physical products
Connect a product to its digital twin, throughout its lifecycle, with a unique packaging ID.
Experience why One Code has endless possibilities
The GS1 Digital Link doesn't just offer static benefits. Be dynamic with the GoodsTag Smart Products Platform; each user receives relevant details and services at the right time for them.
Get info about the value of Context dependent Content
Date, time, language, location, weather data, and more can be used to trigger different content through one single code. Ingredient lists can be displayed in the user's own language; disposal instructions can be tailored by country; promotions can have automatic expiration dates.
How to get ahead of the curve
Become more competitive by being one of the first companies to fully exploit the benefits of smart packaging with the GS1 Digital Link. Lay the groundwork for a 'Digital Product Passport'. Communicate location-specific packaging return points, separation and recycling instructions. Support a true circular economy, wherever your consumers may be, in the context of the European Green Deal.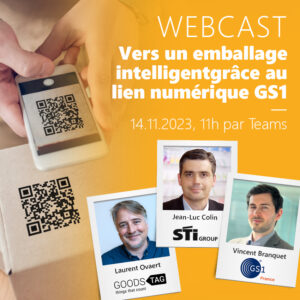 SPEAKERS
Vincent Branquet | Chef de marché PGC, GS1 France
Laurent Ovaert | Head of Business Development, GoodsTag
Jean-Luc Colin | Directeur commercial, STI Display Emballages Création S.A.R.L