In the first part of our series on smart product opportunities (read here: Smart brands now rely on smart products), we talked about the increased importance of physical-to-digital interaction between products and consumers. However, the road to smart products is seen by brand manufacturers as time-consuming and costly – we show how it can be done the other way.
When products communicate directly with customers
Today, when a mobile website delivers added value after a product is scanned that precisely matches the context – i.e., time, location, status or condition of the item – the product itself quickly becomes the most relevant of all contact points for brand communication, sales, services, customer loyalty and brand loyalty. 
This is absolutely invaluable, especially these days, when you want to communicate availability, sourcing and usage information along the entire product cycle to potential and existing customers on a daily basis and without any detours. And let's not forget – every interaction recorded provides a treasure of data (in compliance with data protection laws, of course) about the product's lifecycle from distribution to retail to the customer's home.
Lowering barriers to the introduction of smart product services
At this point, the product manager of a German brand manufacturer says he would like to have such a solution the very next day. However, after a meeting hastily convened with those responsible for production, IT and marketing, half a dozen critical blockers usually emerge – and the strategic roadmap did not include this completely new topic either. Before we now normally return to "crisis management-as-usual", we propose an alternative:
To unlock almost all the added value of smart product solutions, i.e., digital real-time interaction with uniquely identifiable consumer goods, you "only" need smart labels or smart packaging. Indeed, digital access to products is anyway either via printed unique QR codes, contactless NFC chips (see contactless credit card payment) or RFID chips (only to be applied in retail because of the special readers required for RFID). All these so-called trigger technologies for smart product applications can be integrated logistically and operationally into the production processes for labels, packaging and ancillary materials with little effort.
We conclude: Smart Labels are a full-value "shortcut" to enable Smart Product applications for almost all segments of consumer goods from supermarket to luxury. 
Leveraging data power with smart products
Smart Products place high demands on Internet-based real-time applications – which is why a specialized Smart Product Services platform is used here. Behind each unique Smart Label are product master data, multimedia content, and item-specific track & trace information from manufacturing, supply chain, and retail. Such serialized smart label data thus contains all the identification features and events that the product collects in its lifecycle and bundles them in an Internet application that is available in real time. 
A welcome side effect: serialization for smart product applications breaks down data silos from the supply chain, because information from a wide variety of sources is available for the first time at the highest granularity in a state-of-the-art and scalable IT environment. For many brands, the availability of such consolidated product lifecycle data represents a paradigm shift. Opportunities and synergies for optimization along the entire product lifecycle can be tapped step-by-step, and Smart Product solutions thus continuously increase in value.
We have a plan: Implementing Smart Product Services with minimal effort
Our product manager is now convinced: using smart labels to enter the world of digital product interaction is an opportunity he cannot afford to miss. Finally, there is the question of effort and cost. For a quick and cost-efficient start, our proposal bypasses less flexible core processes in production and IT.
First things first: via label and packaging production, the application of smart labels is made possible without affecting rigid production processes. Modern digital printing processes are inherently prepared for the serialization required for this (each individual label should contain unique characteristics). 
Deploying the specialized smart product management platform (usually uncomplicated as a cloud-based software-as-a-service model) on the Internet means that no internal IT processes need to be touched either. Product master data, serialization data and lifecycle events are generated and managed autonomously in this platform. Automation is nevertheless possible at any time – data exchange with leading IT systems for production and logistics can take place at any time via state-of-the-art API interfaces. 
Mobile websites with digital product information can be assumed for the vast majority of brands in 2020, and our new Smart Product Services are also based on this. The item-specific and contextually dynamic content is integrated into the existing static product websites with moderate effort. Alternatively, completely dynamic web pages can be created from the data of the Smart Product platform, because both product master data and interaction data can be accessed there in real time.
Summerizing the steps for implementation:
application of the smart labels by using labels, packaging or ancillary materials

generation and management of serialized product data in the Smart Products Internet platform → temporally independent of the physical label and updatable at any time

use of existing mobile websites possible as well as automatic creation of completely dynamic product pages.
And what next?
It's never the right time to do something new. Especially in the middle of a crisis, which has a good chance of bringing about a new normal for many of our material habits, the willingness to innovate, which is perceived as risky and which had already been postponed year after year in better times, decreases. 
In this sense, however, there is no better time than now to start something new, because change is only accelerated by all kinds of crises. So let's take advantage right now of the lessons of our particular time and accept the irreversible and constantly evolving infusion of the digital world into our daily lives. A smart and serialized QR code on a product label seems only a small but consistent step.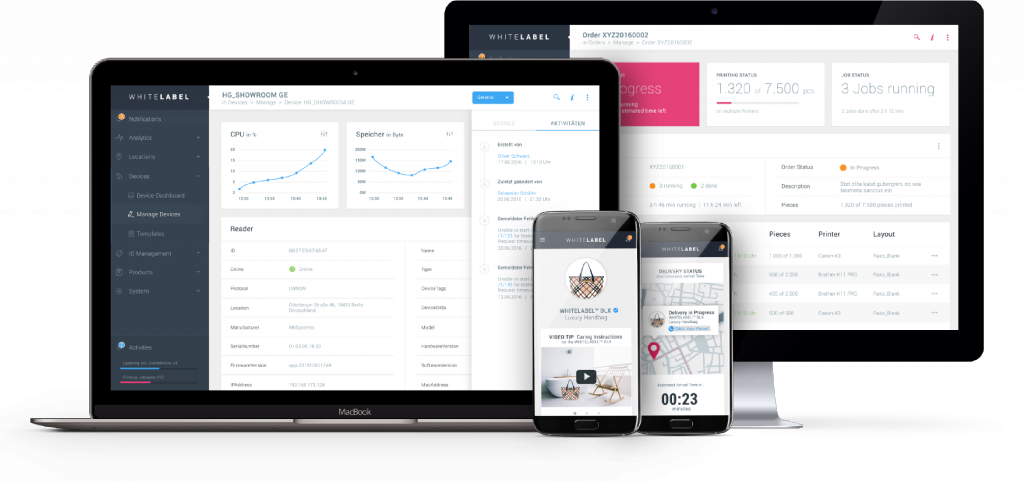 GoodsTag's Smart Product Services Platform
Appendix 1: How do smart products work?
To access the digital copy of a consumer product, one scans its unique QR code or activates the NFC chip with any smartphone. The phone brings up a mobile web page with all the information and interactions the manufacturer is providing for that exact product at that moment.
Appendix 2: How to make products smart?
One creates a smart product in two simple steps. First, a digital identity is created for each item. To put it simply, this is an entry in an Internet database that contains product information and records any events in the item's life.
Then, the real item is inseparably linked to its digital identity. To do this, a unique code is attached to the item, for example in the form of a QR code, an NFC/RFID chip or any combination. Depending on the planned use cases, the code is attached to the product itself, the label or the packaging.
A cloud-based smart product services platform, for example from GoodsTag in Berlin, is used to create and control all smart product activities. This makes the relationship between product and customer as unique as the customer himself.
Press Clipping
Das Jahrbuch für Design, Verpackungs material und -technik, 2019 (s.95)